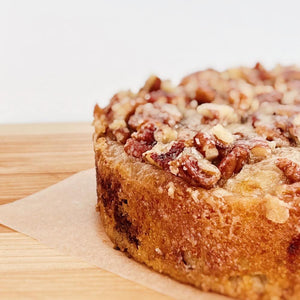 Buttermilk-y goodness with pecans and sugar
Cake was tender and surprisingly light inside, with crunchy-sweet pecans on top. The 6" one came off as delicious without feeling heavy; the buttermilk makes it moist but not weighed down. Flavors are subtle: savory, sweet, and a little tangy. Tinge of butter but not overwhelming. We would definitely get this again for ourselves or as a gift to colleagues and friends. YUM! Treat yourself.
You are amazing with words and descriptions! We couldnt have said it better ourselves and appreciate you so much as our Flaky Family!
Yummy Cake!
I highly recommend Flaky Not Flaky. From ordering to picking it up it was all easy! I ordered the buttermilk cake for Thanksgiving and everyone loved it!
Glad everyone was thrilled! This is one of Flaky's favorite things (and maybe Oprah once she has had it). Thanks for the amazing review!
unbelievably good
We ordered a buttermilk cake 12" for Thanksgiving as well as some of the Raspberry filled Sconuts. Both were unbelievably good. The buttermilk cake was enough to feed a small army and was a welcome addition to the normal apple and pumpkin pie choices. The topping was so amazing and the cake consistency was soo good. Hard to explain, but you have to try it! The Scone-Donuts or Sconuts, were super fresh and we just let them sit out overnight and they were the perfect amount of breakfast pastry with a nice cup of Colombian coffee. I will be ordering more and more soon. Thanks Flaky Not Flaky!!
Thanks!!! Oh with coffeeeeeeeeee, yes! You know how to do it right! Thanks for being so great and for the fabulous review.